Simulator Instructor Sakshi Kumania has been working at our CAE Dubai Training Centre for more than a year. CAE has training facilities in over 30 countries around the world and we encourage the simulator instructors to be passionate about teaching and training the future pilots by providing them the world class infrastructure and a comprehensive instructor training program. Simulator Instructor Saskhi Kumania talks to us about her experience of working at our Dubai training centre.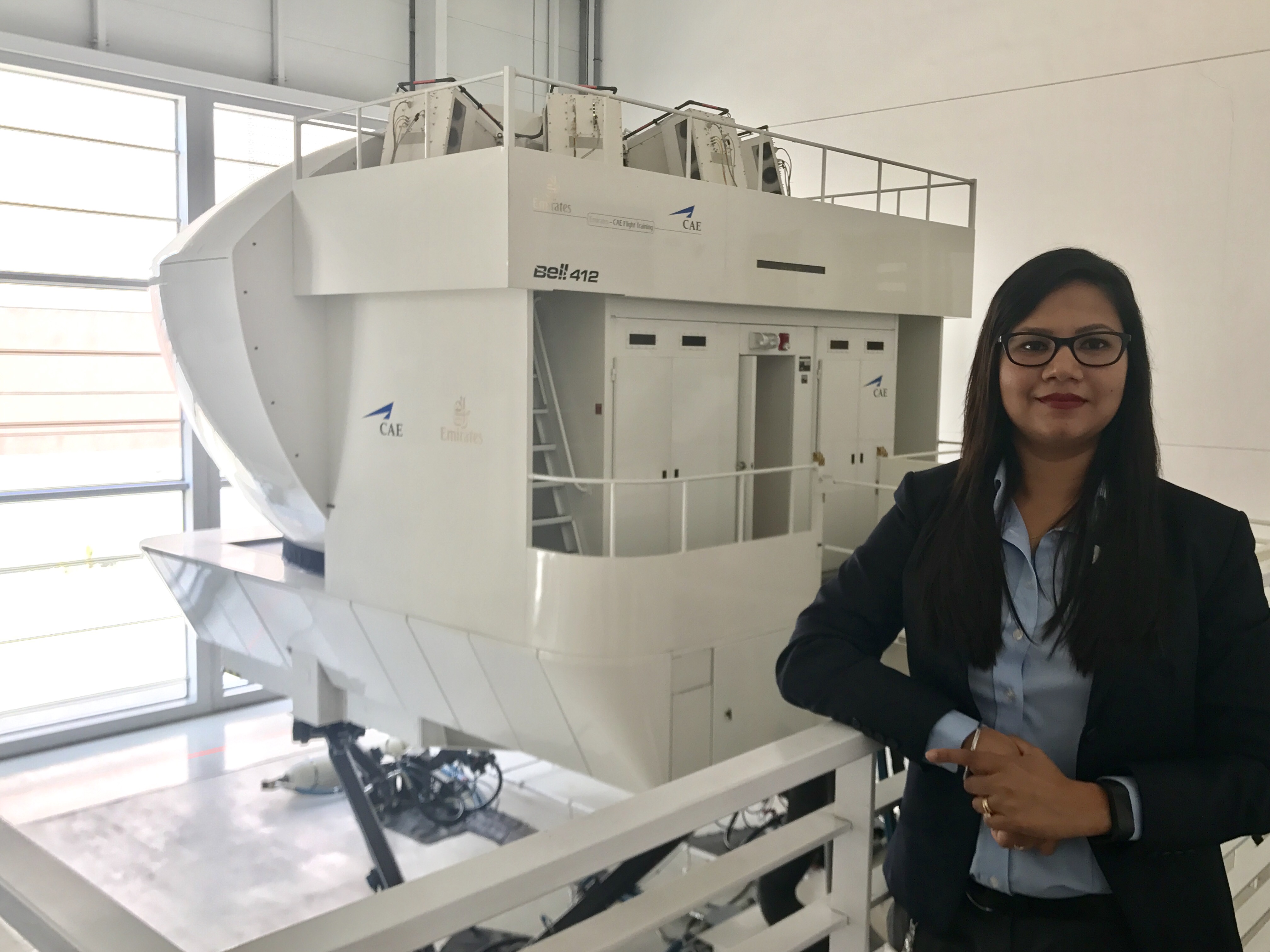 What do you like about working for CAE Dubai as an Instructor?
I feel the most important you should have to work as an Instructor is passion about the airplanes and teaching. I have both since childhood and CAE Dubai did recognize these things in me and gave me an opportunity, which I have been looking for long time.
CAE Dubai holds high standards, and it's exceptional to work here. Their Benefits, package, and work culture is the best I have ever seen. CAE Dubai really take care of their Instructors, they give training to their employee for career development and give opportunities to them so, they can grow. Most important thing is being woman in the aviation might be underestimating sometime, but working here I never felt it that way.
Do you/your family enjoy living in Dubai?
Ans- Yes, I like it here. Moving from USA to Dubai, I thought it will be hard in Dubai because of heat and desert. But it's not, I and my husband are pretty happy here and we look forward to spend more years here together. Big benefit of living in Dubai is, this place give access to so many nearby countries such as European countries, Asian countries, African countries and of course middle east to visit, which was hard for us to think when we were back in USA. We love to travel and explore new places.
Would you recommend working for CAE Dubai?
100% Yes! It's a great place to work. Management is very nice and helpful. Management here does recognize the hard work of company staff and appreciates them. CAE Dubai has a Multicultural environment. People are loving, caring and helpful. Being an American, I work here with Americans, Canadians, British, French, Indians, and many more. I feel it's the place where so many nationalities come together and work as a team. 
CAE Parc Aviation are world's leading pilot recruitment company providing aviation and support personnel since 1975. We have supporting offices in various countries in Europe, Asia and in the US to provide support to new pilots, simulator instructors and cabin crew. Browse the latest instructor jobs here to kick-start your new job.