In order to assure Ireland's premier place globally in the Aircraft Leasing Industry, CAE Parc Aviation and LIT have developed an innovative new course that provides a pathway for experienced aviation technical personnel into the aircraft leasing industry.
The Aircraft Records Technician programme will translate the technical experience of aviation personnel into a practical real world skill that will enable the participants to enter the leasing industry as records specialists.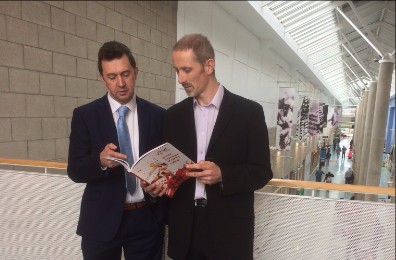 Don Salmon, CAE Parc Aviation Client Services Manager said, "As the global leader in record review services we see the requirement to develop common standards to meet aircraft leasing industry expectations and simplify the process.  Using customer feedback and our in-depth knowledge of regulations we have worked with LIT to develop this course curriculum with the goal of training new aviation record specialists and enabling them to achieve excellence in record review standards." 
Seamus Hoyne, Head of Flexible Learning at LIT said, "This Level 7 Special Purpose Award is validated by LIT, having been developed by CAE Parc Aviation, and is delivered at Atlantic AirVenture in Shannon, It addresses a skills gap in the burgeoning Irish aircraft financing industry, which financed aircraft to the value of €20 billion last year."
Jane Magill at Atlantic AirVenture said, "We are delighted to work with CAE Parc Aviation in Shannon and LIT to facilitate the delivery of the Aircraft Records Technician course.  Given Shannon's position in the aircraft leasing sector, we expect a strong demand for the course which will run in both the spring and autumn semesters 2016.  I would encourage people to apply for the course soon as the number of places we can provide is limited and the course starts on March 3rd.  People should apply through the Department of Flexible Learning in LIT."
Topics include:
Introduction to Leasing 

Aircraft Lease Contracts 

Lease Transition Checklists

Maintenance Programs Planning

Continued Airworthiness Management Organisation (CAMO) 

Landing Gear and Engines.

Structural Repair Data Analysis

Aircraft Records Redelivery Event Open Items Lists

Records Consultant Role

Industry Developments and Trends
On successful completion of this course, participants will have a detailed knowledge of the aircraft technical documentation required during an aircraft lease transition process. They will be able to devise a structure, plan and accomplish the Lease Transition checklist ensuring no documentation gaps the aircraft history.
They will be able to evaluate, report and provide feedback during the process, working with the Lessor and Lessee to manage expectations and achieve a successful re delivery of all required documentation. 
Course Details
Dates: 3rd March - 12th May
Duration:10 weeks, 3 hrs each week
Time: 18.00 hrs - 21.00 hrs
Location:  Atlantic AirVenture Shannon Town, Co Clare. 

Entry Requirements:  Individuals with an aircraft maintenance qualification, at level 6 or above, aviation degree or with extensive experience in the aircraft maintenance industry.

Applications should go to:
Department of Flexible Learning,
Limerick Institute of Technology
Moylish
Limerick
Phone 061 293802
Email: FLLimerick@lit.ie
Web: www.lit.ie/flexiblelearning